Automatic Molding Machine VMEZX100100

Features
The machine is stable, low power consumption, and long lifetime.
High level of automation, easy control, and lower labor cost.
Highly standardized, good parts interchangeable, fast and low-cost maintenance.
The sand could be compacted both inside and outside according to technical requirements, which makes the sand mold better.
Mold release agent is sprayed automatically, which makes the demolding smoothly, casting surface glossily, and no defect in the sand mold.
Electric cabinet and hydraulic station are all installed in the machine, which makes them compact and easy maintenance.
Low failure rate, and the machine can diagnose the failure by its own.
Description
VMEZX100100
Mold Dimensions (L x W)
1000 x 1000mm
Thickness of Sand Mold
200-250mm
200-250mm
Molding Speed (s/mold)
46s/mold
(without the time
for sand core loading)
Squeezing Pressure
≤ 21Mpa
Air Consumption
1.5m3(Normal)
Humidity of Sand Mold
2.8-3.5%
Drive Method
Electric-Pneumatic-
Hydraulic
Thickness of Pattern
100mm
Power Supply
AC380V, 50Hz
Total Power of the Machine
50kw
Net Weight
30T
Machine Dimensions
(L x W x H)
6170 x 3300 x 4300 mm
Automatic Molding Machine VMEZX 3070/ 4050/  5060 / 6070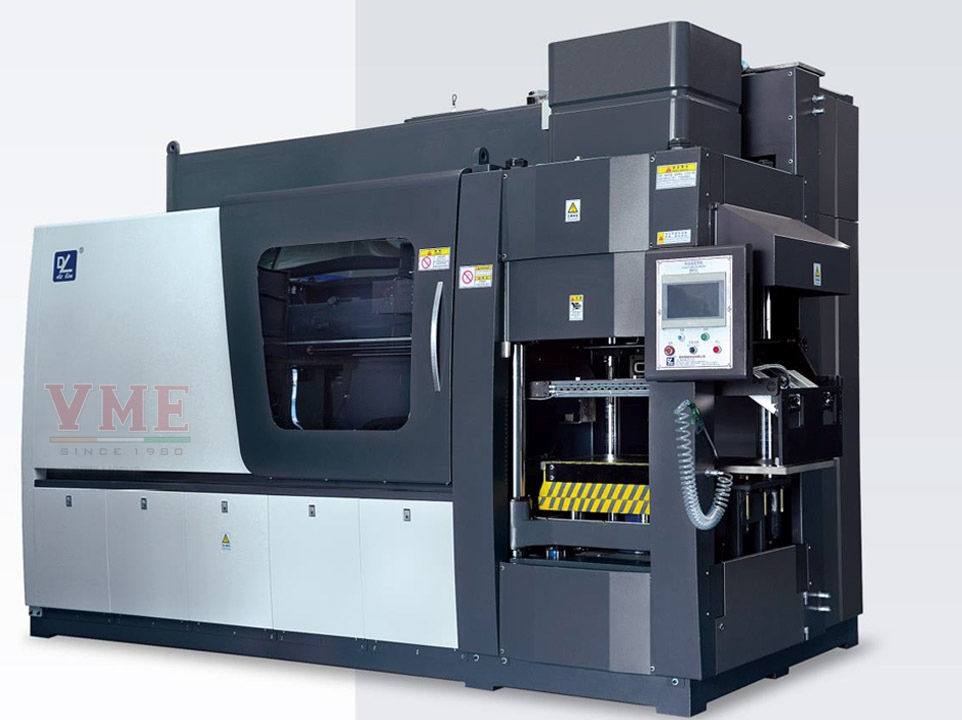 Description
VMEZX3070
VMEZX4050
VMEZX5060
VMEZX6070
Mold Dimensions (L x W)
300 x 700mm
410 x 510mm
500 x 600mm
600 x 700mm
Thickness of Sand Mold
80-150mm
100-150mm
80-150mm
80-150mm
80-190mm
110-190mm
120-200mm
120-200mm
Molding Speed (s/mold)
36s/mold
(without the time
for sand core loading)
36s/mold
(without the time
for sand core loading)
38s/mold
(without the time
for sand core loading)
40s/mold
(without the time
for sand core loading)
Squeezing Pressure
≤ 15Mpa
≤ 15Mpa
≤ 15Mpa
≤ 20Mpa
Air Consumption
0.5m3(Normal)
0.3m3(Normal)
0.5m3(Normal)
0.6m3(Normal)
Humidity of Sand Mold
2.5-3.5%
2.5-3.5%
2.5-3.5%
2.5-3.5%
Drive Method
Electric-Pneumatic-
Hydraulic
Electric-Pneumatic-
Hydraulic
Electric-Pneumatic-
Hydraulic
Electric-Pneumatic-
Hydraulic
Thickness of Pattern
20-25mm
20-25mm
20-25mm
25-30mm
Power Supply
AC380V, 50Hz
AC380V, 50Hz
AC380V, 50Hz
AC380V, 50Hz
Total Power of the Machine
14kw
14kw
14kw
24kw
Net Weight
9T
8T
9T
12T
Machine Dimensions
(L x W x H)
4540 x 1900 x 3270 mm
4220 x 2100 x 3080 mm
4470 x 2100 x 3350 mm
4980 x 2400 x 3760 mm