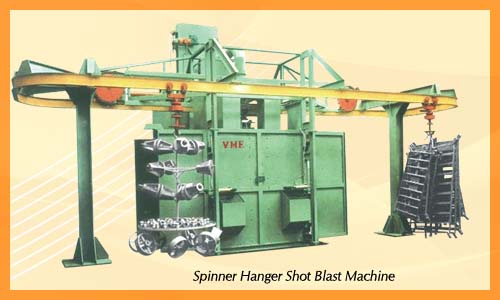 Features
Compact, Space saving design.
Dynamically Balanced Rotors.
Maintenance-friendly set-up of all machine Components.
Easy integration into existing production lines.
Easy replacement of blades.
Complete Dust extraction system.
Range : 300 Kgs to 15,000 Kgs as standard.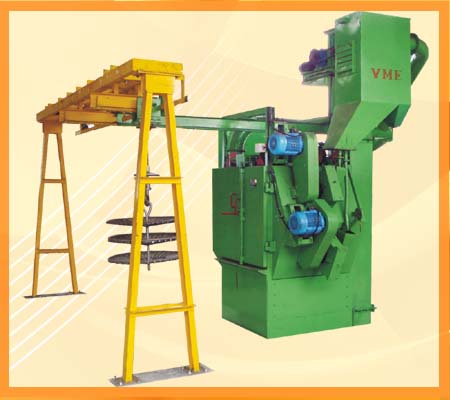 Spinner Hanger Shot Blasting Machine 300 Kgs – 500 Kgs
Efficient Surface Treatment with VME Shot Blasting Machine
'VME ' Spinner hanger roto blast cleaning machine is specifically suitable for surface treatment and desanding of castings, descaling of forgings, and deburing of aluminium parts, especially for those work pieces which are not suitable for tumbling because of their shape or size. Several models are available with load capacities of up to 15000 kg per hook as standard. Special types also can be designed and supplied to suit customer's requirements.
Salient Features :
The blast cleaning chambers are lined with highly wear – resistant material.
A unique seal design protects the bearings against abrasive leakage from the chambers during the blast cleaning process.
High cleaning capacity due to very short loading and unloading time.
Optimum utilization of drive motor capacity.
Optimum location of the blast wheels throughout the chamber.
Full Exposure of all surface to the blast stream and gentle cleaning of work pieces.
Short blasting periods due to long blasting zone and low density of work pieces.
Specification
| | | | | | |
| --- | --- | --- | --- | --- | --- |
| Model | VME 300 RBS | VME 600 RBS | VME 1000 RBS | VME 3000 RBS | VME 5000 RBS |
| Cabin Size (in mm) | 1300 x 1200 x 1300 | 1500 x 1500 x 1800 | 1900 x 1800 x 2400 | 2500 x 2500 x 3000 | 2500 x 2500 x 4000 |
| Hook Loading Capacity | 300 Kgs | 600 Kgs | 1000 Kgs | 3000 Kgs | 5000 Kgs |
| No of Turbines | 1 | 2 | 2 | 3 | 4 |
| Turbine Power (HP) | 1 x 10 | 2 x 12.5 | 2 x 15 | 3 x 15 | 4 x 20 |
| Shots Flow/min | 1 x 150 kg | 2 x 200 kgs | 2 x 240 kgs | 3 x 240 kgs | 4 x 300 kgs |
| Diameter of Turning Circle (mm) | 850 | 1000 | 1500 | 2100 | 2100 |
| Dust Collector (HP) | 5 | 7.5 | 10 | 15 | 20 |