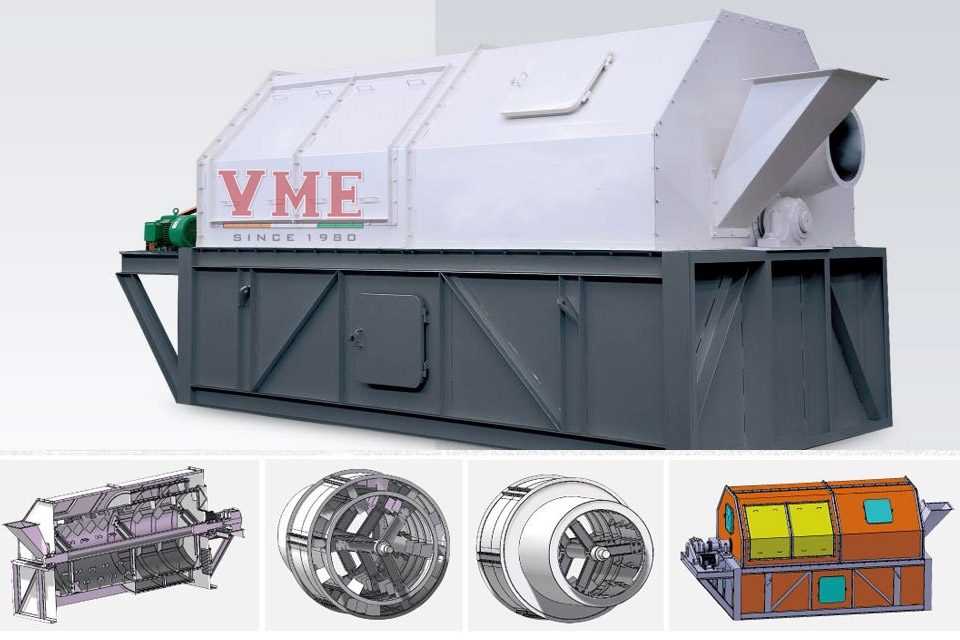 Features
Noise is much less than that of a fluidized Cooling machine, no vibration, blower and mesh blocking.
Double rollers is better function in sand crushing, no more sand cores increasing, no secondary fine sieving.
Rotating speed is much faster than cooling drum, better in mixing and old sand cooling, higher cooling efficiency.
Compared to conventional sieving machine, it is with function of self-cooling, old sand with different humidity and temperature is mixed fully to provide good quality sand for molding.
Low power consumption. Old sand is not suspended by blower or roller by scraper, it is rolled by itself gravity and self-contained guide plate. No abrasion and spare parts.
Specification
Description
VMERCT-30
VMERCT-40
VMERCT-60
VMERCT-80
Max Treating Capacity
30t/h
40t/h
60t/h
80t/h
Dia of Outer Roller
2000mm
2200mm
2400mm
2600mm
Dia of Inner Roller
1600mm
1800mm
1900mm
2000mm
Length of Roller
4325mm
4325mm
5485mm
5485mm
Rotating speed of Roller
20rpm
20rpm
21rpm
21rpm
Power
8kw
11kw
11kw
15kw
Watering System
9.6L/min
9.6L/min
2/9.6L/min
2/9.6L/min
Dust Removal Air Volume
10000m3/hour
12000m3/hour
14000m3/hour
16000m3/hour
Inner Sieve
Stainless steel 304
10 x 24 x φ 2.5
Stainless steel 304
10 x 24 x φ 3
Outer Sieve
Stainless steel 304
5 x 24 x φ 2.5
Stainless steel 304
5 x 24 x φ 2.5
Temperature for the inlet pot
100°C
Temperature for the outlet pot
45°C