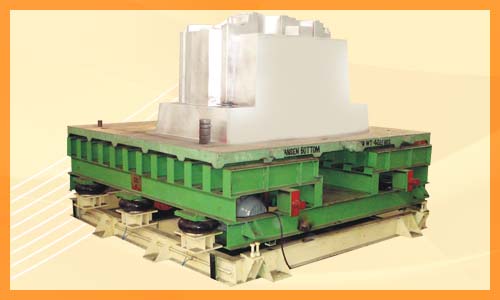 Salient Features
Two motors arranged to contra-rotate and produce a vertical linear motion.
Optional A.C. inverter control to provide infinitely variable vibration settings.
Design of Vibrating frame allows compaction of oversize moulds.
The rollers forming the roller track remain static and are free from vibration.
Automatic operation controlled by pneumatic foot switch.
Standard sizes are as shown but special sizes are available.
To ensure good moulding results it is essential that the sand is well compacted and it is for this reason that VME has taken particular care in the design and realisation of the compaction tables. The most special feature is undoubtedly the possibility of regulating the frequency of the two electric vibrators, by means of a control inverter, positioned on the electrical panel itself. VME  has developed various models to meet the specific needs of the customer and they range from a minimum working capacity of 2000 Kg, to a maximum of 20,000 kg.